Rudhayamrut food supplement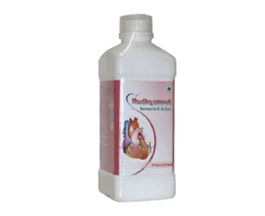 Business Type
Manufacturer, Exporter, Supplier, Retailer, Wholesaler
Appearance
Brownish Powder With Characteristic Odour
Solubility
Cool & warm water 35°C to 40°C
Compatibility
Compatible with Printing Thickener Reactive Dyes Etc.
Click to view more
Product Details
Storage
Under Cool & Dry Environment
It is food supplement made from extracted Arjuna bark and supported by many Herbs chosen from Ayurvedic wisdom.

Rhudyamrut may be supportive in the management of


High blood pressure


Blood lipid imbalance



Components of Rhudyamrut  may help it to


Keep heart healthy


Increase heart muscle anti-oxidant status


Improve blood vessel health and blood circulation


Improve digestion and gut health


Improve good gut bacterial numbers


Reduce chronic stress


Increase heart capacity


Bring feeling of wellbeing



Some key components of Rhudyamrut are shown by modern research to have several benefits:


Arjuna bark: Arjuna is used in Ayurveda as a heart toninc. In diabetic and hypercholesterolemic patients Arjuna was shown to reduce total cholesterol, triglycerides, LDL-C and increased the good cholesterol, i. e. HDL-C. In patients with stable angina, Arjuna reduced the anginal episodes, improved the performance of patients in the treadmill test, and improved the left ventricular ejection fraction; it also lowered systolic blood pressure and the body mass index.


Animal studies showed Arjuna to protect animal hearts from toxin induced fibrosis, necrosis, oxidative stress, pathological hypertrophy, and preserve anti-oxidant status of the heart muscles. Arjuna was also shown to protect their heart from ischemia-reperfusion injury. It also preserved function of inner wall of the arteries.


Gokharu: Gokharu fruits are traditionally used to increase urinary output, as cardiac and liver protectants. A study on more than 400 patients showed Gokharu to be an ideal supportive treatment for the management of angina pain and was well suited for chronic consumption without any side effects.


Animal studies further increase the possible effectiveness of Gokharu. Saponins from Gokharu were shown to dilate blood vessels that supply blood to heart muscles and thus improved the nutrient delivery and waste product removal from heart muscles (improved coronary blood circulation). Animal studies also hinted towards Gokharu to be useful in high blood pressure management and diabetes management.


Curry patta: Used traditionally in Tadka, this is a medicinally active herb. Post menopausal women are at increased risk of cardiovascular events. In a study done on post menopausal women with bad lipid levels, curry leaves increased the HDL-C and reduced LDL-C and triacyl glycerol.


Clinical trials have shown that in older patients (> 50), consumption pf curry powder (3 to 15 gm) per  for a month produced around 20% drop in the blood glucose values. The drop observed was both in fasting as well as in post lunch values


Methi: Methi is shown in clinical trials to reduce blood glucose levels and help bring lipid parameters under control.


Pomegranate peel: A human study showed pomegranate peel supplementation reduced both higher and lower blood pressures, reduced triglycerides, and increased the good high density


lipoprotein-Cholesterol (HDL-C). A pilot study in use of peel in obese women with bad lipid profile showed a reduction in the cardiovascular disease risk factors. (upper blood pressure and Reactive Protein levels).


Animals studies have hinted towards prebiotic effect of pomegranate peel.


Punarnava: it is known traditionally as a diuretic. Various animal and in-vitro (test tube) studies have shown Punarnava to be useful in reducing blood glucose, stress (=adaptogen) and a cardioprotectant.



References:


Amalraj, S. Gopi. Journal of Traditional and Complementary Medicine, 2017, 7, 65-78.


Bioactive Food as dietary Interventions forcardiovascular disease. Ed. Watson & Preedy, 2013
Looking for "
Rudhayamrut food supplement

" ?
bottle